House prices in London will see prices rise by almost a quarter in the next five years, according to an estate agency today.
London prices have risen by 10.9%, according to latest Land Registry figures, the fastest rate since July 2010.
The average price of a home in the capital now stands at £409, 881.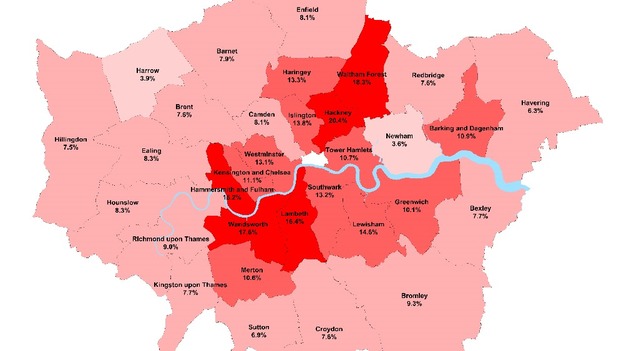 Borough by borough, the rate of growth from January 2012- January 2013 differs:
Hackney – 20.4%
Waltham Forest – 18.3%
Wandsworth – 17.6%
Lambeth – 16.4%
Hammersmith & Fulham – 15.2%
Lewisham – 14.6%
Islington – 13.8%
Haringey – 13.3%
Southwark – 13.2%
Westminster – 13.1%
Kensington and Chelsea – 11.1%
Barking and Dagenham – 10.9%
Tower Hamlets – 10.7%
Merton – 10.6%
Greenwich – 10.1%
Bromley – 9.3%
Richmond – 9.0%
Ealing – 8.3%
Hounslow – 8.3%
Enfield – 8.1%
Barnet – 7.9%
Kingston – 7.7%
Bexley – 7.7%
Croydon – 7.6%
Brent – 7.6%
Redbridge – 7.6%
Hillingdon – 7.5%
Sutton – 6.9%
Source: http://www.itv.com/news/london/story/2014-02-28/london-house-prices-to-rise-by-a-quarter-in-five-years/
Havering – 6.3%
Harrow – 3.9%
Newham – 3.6%